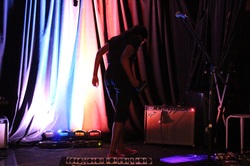 HER is a selfish project. HER is for everyone but it's also for no one. HER is still in the works and I like to think it could take on several forms.

I could start anywhere. I write a lot of good garbage in my iPhone Notes. Last September I drew out a line where I was openly talking to myself. As I dabble with poetry, I notice a lot of people's writings that openly address a younger self. Some writings go over old wishes and what that person could have done, almost in regret. I would spend a lot of time contemplating our universe as a child ― a universe that ultimately held a place for my future self. As I get older, I now selfishly think of this child. The weird twist about this project is that everything is done with the knowledge or belief that she still exists as we speak.

HER proposes that this universe might someday intersect or collide with another.

If time and space is infinite, then that infinite must be infinite too – resulting in multiverse.

I propose that our "now" might intersect with a different "now"; one we have already experienced in this universe. If we collided with another universe's past, maybe you would get to see the younger you.

All of this is premise for the rest of the work. My goal was to find this person. This person is not me, but an exact version of me, hence why she is named "her". I engaged in what was seemingly casual conversation with forty childhood friends, acquaintances, close friends, teachers and mentors who I believe knew me very well in the past. After asking them a series of questions about what they thought of our past interactions, what I used to look like, and when and where we had first met, I revealed to them that they had unknowingly assisted me in my search for her. As our universes are identical, a version of me of the past will match a version of her at a point of intersection.

As time went on, the interviews became more than a tool in my search. They led me to film old spaces in hopes of seeing something on footage, but I felt they started to become an obvious form of audio portraiture.

I cut the audio and inserted clips of my own voice so that we could get back to a place where we could talk about "her" in third person.

These people all once knew her, but in a sense they no longer do.

When I presented a portion of the installation work last year, there was a comment from our seminar class that stuck with me ― it was said that "she" seemed to be someone who was no longer with us or not of this world. It's unusual how I looked back at the footage of these empty spaces, in my kitchen, just last week, alone, in the dark and I felt like I was in some kind of mourning.

It's complicated, liking the person I have become yet missing the person I once was.

The farther I go to reach out to her, and with good intentions, the more information I uncover about myself.

In the beginning I wanted to do this without a lot of feeling but now I think it's possible to miss someone you have never met.

These unexpected emotions are presently driving my performances of HER. Last month I covered my head in metallic wrap and tried to translate the audio work by drawing on a piece of glass. All the audio has little bits and pieces of each person's quirks and memories embedded in it; in the metallic head you look at me but also get a muddy image of yourself. As I sit behind the glass trying to create some portrait of her, I end up only obscuring myself. For this week's performance I intended to move in response to the audio piece, while in duet with one of the original videos playing out of a handheld projector. My gadgets didn't work out and I was left moving and trying to make sense of the audio with my body. This time I found myself on stage trying to make sense of it all. Am I getting close to something? Am I ruining everything? Do I believe enough in my own theories? If I meet her someday will she understand the person I've become? Does she even exist? What the hell am I doing here on stage? There's a lot of doubt and room for failure, as there always has been from the start. For now, it is not so much about searching but interpreting the search itself, and maybe even moving on. While I'm caught up in all of this, there might be some paranoid, older woman looking for this version of me.