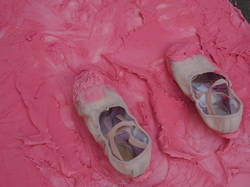 by MVA DECOR

So this is "Sole Purpose," and I might know something about where it came from. I know that it comes from a profound experience rooted in life and that she agonized over it to reach the intensity and simplicity of its meaning.

One day she telephoned and asked me to find her old, pink, canvas, ballet, slippers and mail them to her at school. I wondered why she wanted them now and how in the world I would find them in her room. I happened to move a box and I immediately saw the shoes. It was as though they were hiding, waiting for me to find them. They seemed to be staring up at me with familiarity and a fear of their own. The last time she wore them was at her last ballet class, and it was just before her last ballet recital. She decided to pull out of the recital for her own reasons. She would not perform in those shoes again. I immediately wrapped them and mailed them out. The shoes were to reach London, Ontario the next day because I had paid extra, but they never arrived on time. There was excuse after excuse from the post office and it almost seemed as if the shoes never wanted to get to her. It was as if the shoes actually feared her and what she might do to them as they knew her well.

I remember how beautifully she danced and how graceful she was and even though she left the dance she carried the same poise, rhythm and grace everywhere she went. There was always an unexplainable strength in her. I was certain she wanted to destroy the shoes, perhaps cut them up somehow, but I knew that her reasoning was always purposeful.

She didn't tell me this but I realized that she had decided to do her last dance after all and that perhaps this would be her "sole purpose." As always she would do it on her own terms. She took pains to set up a pink medium on a display board and recorded all of her last dance steps and strokes, points and positions onto that medium. Some of the steps are on top of steps but still she had virtually painted and sculpted a piece of artwork using her dancing feet. She made a record of what was in her soul by recording the last use of her pink, canvas, dance shoes. "Gisele" and "Swan Lake" are beautiful ballets and although they had a remote connection this work was definitely not that. This choreography came out of her classical training and when she was finished she bent over from exhaustion and she stepped out of the shoes for the last time.

It must have been cold because she danced outside on one of the coldest days of the year. She always wanted to be free and outside of the confines of a ballet studio. When she finished the dance she looked so tired and I was afraid that she might catch cold or become ill somehow. But she didn't, instead she seemed to become stronger and determined to overcome everything. She was now the master of her own thoughts and decisions and she had actually preserved some of that for posterity through her "Sole Purpose." The old pink canvas shoes now remain part of the medium as a sculptural dance. They are frozen in time, strangely made in cold, freezing, temperatures as are her final steps and the final use of those shoes. Those shoes have now become a piece of art work and I now realize that they remain a tool for dance not to be danced in but to as a symbol for the inspiration to dance, and more so for the inspiration to continue to live as each one of us dances through life, whatever dance that might be.